Two Hikers Found a message in a Bottle and Helped Rescued a Stranded Family

There was a CNN news update by Cheri Mossburg on September 11, 2019 about two hikers helped to rescue a stranded family. The family wanted to thank these two hikers and made the news on this day.
Curtis Whitson, his thirteen-year-old son and his girlfriend, Krystal Ramirez went backpacking at the Arroyo Seco River in central California for the Father's Day weekend. Their goal was to reach the Arroyo Seco narrows, float through the water shoot and down the waterfall before joining friends to float the last couple of miles down to a campground. After two-and-a-half days, the family reached the narrows, a spot in the river surrounded by solid rock up to 40 feet high on each side. But the water currents were too strong for them to pass through. After trying to hike up and over, Whitson and his son kept hitting dead ends. There was no way out.
The family couldn't see anything past the canyon walls, but they heard voices on the other side. They tried yelling for help. They carved a message on a stick and throwing it over. But they realized a stick wouldn't be enough.
Whitson spotted a lime green water bottle and carved 'HELP' into the exterior of the plastic. Ramirez, his girlfriend had scratch paper. She scratched out a note and popped the paper inside the bottle.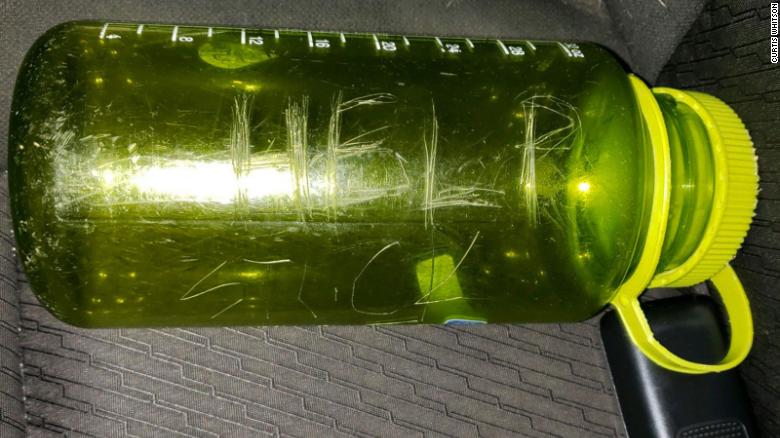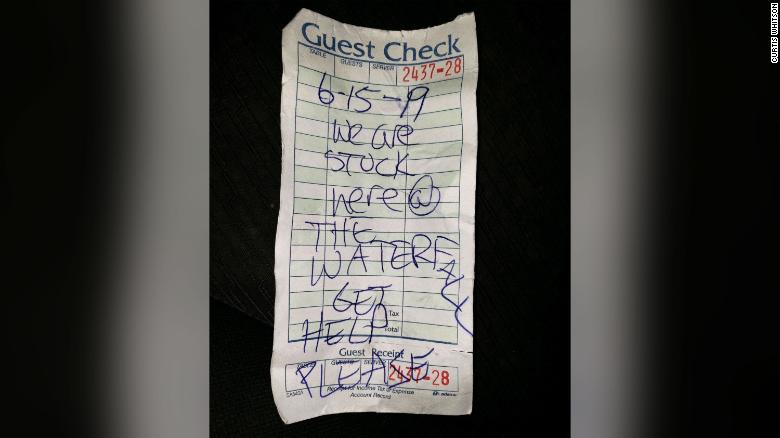 The family went back up the river to a small beach where they had stopped earlier for lunch. They floated down from the beach in about two minutes, but it took about 30 minutes to get back upstream. After they got to the beach, they spread out a blue tarp in a clearing and assembled white rocks to spell out "SOS." As the sun set, they used a headlamp to keep that message illuminated.
After midnight, the sound of a California Highway Patrol helicopter woke them up. Someone said over the loudspeaker, "This is Search and Rescue. We have found you." The rescue crew told the family to stay put and stay warm. They arrived early the next morning to bring them to safety.
The rescue officer told Whitson two men found the bottle and hiked two miles to their campsite to give the message to the site host. Flight Officer Todd Bainbridge said the crew used night vision goggles and FLIR (forward looking infrared) technology to spot the campfire and located Whitson and his family. The two hikers left before the rescue team arrived.
Whitson and his family are grateful for the two hikers and the crew member who saved them. He wanted the news media to help him find the two hikers who found his family's message and saved their lives.