Christmas Traditions
Christmas is an annual festival celebrating the birth of Jesus Christ, observed primarily on December 25th each year. Christmas is both a religious and cultural celebration observed by billions of people around the world, both Christian and non-Christian.
The observance of Christmas occurs in 160 countries worldwide and celebration varies by country. Some countries celebrate on Christmas Day or December 25th. Australia, New Zealand, Bolivia, South Africa, Argentina, and Madagascar celebrate Christmas in another month other than December.
Christmas celebrations around the world can vary greatly in Christmas traditions. They usually involve setting up a Christmas tree with lights, hanging Advent wreaths and stockings, candy canes. Churches and families set up nativity scenes depicting the birth of Jesus Christ. Families also send out Christmas cards, exchange gifts, and prepare a Christmas feast to share with their family or their extended families.
I have practiced the following traditions most of the years or done it in a different way as time changed in the recent years.
1. Send Christmas Cards or Letters
I wrote a Christmas letter one year to print it on the Christmas stationery. After that, I switched to sending photos. I picked photos that represented the major activities or events of that year and included descriptions of them. The first couple of years, I made a collage of photos with Publisher, saved it as Jpeg, made 5"x7" prints to send them out. Then I switched again to order the 5"x7" Christmas cards from Costco. For the last two years, I ordered two-sided cards.
2. Exchange gifts
My husband came from a large family. In the early years, instead of giving gifts to everyone, members of the extended family drew a name to be the receiver of the gift. The members of the immediate family, of course, exchanged gifts on their own. I bought gifts for my immediate family and wrapped them and put them under the tree. For the last five to seven years, I no longer bought gifts to send to my daughter's family. Instead, I asked them what they would like to have for Christmas, then ordered them on Amazon, Macy's, Columbia Sportswear, REI, or Sierra. The stores sent the gifts directly to them. If the clothes, shoes, or other items are not exactly right, they would return them, and I would order the right size until they're happy with them. I don't wrap Christmas gifts anymore.
3. Have a Christmas Dinner
Our extended family used to have the Christmas dinner on Christmas day around 1:00 p.m. After dinner, some members would go to visit their in-laws from another part of the town, or another state. After the children are grown and married, most of the members spend Christmas with their grown children and grandchildren. We don't meet as a large family.
I have been going to Portland, Oregon for many years to spend Christmas with my daughter's family and enjoy our time with the grandkids.
4. Advent/Christmas Countdown Activities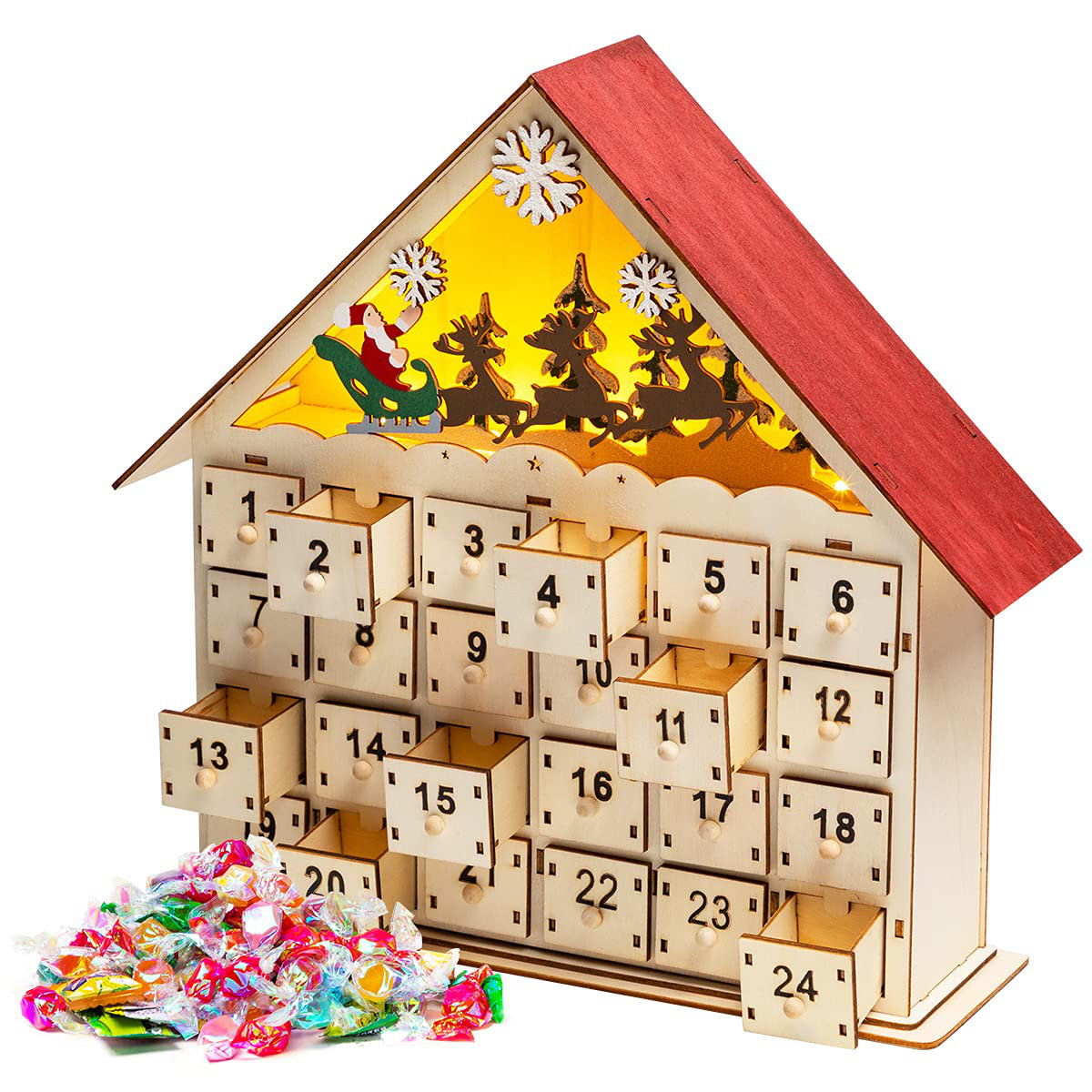 One friend brought a 2'x2' wooden Advent calendar with drawers to a women's meeting to share her tradition with us. She used this calendar for years during the growing-up years of her kids. She had age-appropriate activities for her four children. Another friend who was a teacher brought a 2D calendar to share what she did for her second-grade class for many years. Ideas such as filling 24 drawers with notes, candy, small toys, or keeping special ornaments in each box! For a 2D calendar, each day can be a window that opens to show the activity for that day.
5. Decorate a Christmas Tree
We've had a Christmas tree almost every year ever since we live in a house. We only have the artificial tree, though. When I first decorated a tree, I covered the entire tree with garlands and ornaments. Several years ago, my daughter inspired me to do it with minimal decorations. I like it. It leaves so much room to show the green. My daughter and her husband pick their tree either from the national forest or tree farm. People can get a permit from Recration.gov to purchase a permit. It cost $5 for a permit of each tree plus $2.5 for the online processing fee charged by the website.
I think they got their tree from a tree farm this year. Autumn and Nora had a great time helping to pick one.
6. Start a Holiday-Themed Collection
My sister-in-law collects snowmen. She hosts Thanksgiving dinner for many years. She put up Christmas decorations before Thanksgiving to make the event festive. She decorated the entire house with snowmen, from ornaments to wall hangings, stuffed snowmen, snowman candles, to a ten feet tall figure. I collected Santa, angels, and nutcrackers, but didn't go too far before I stopped.
7. Attend a Christmas show or see The Nutcracker Ballet
I have done both. We bought the season tickets to see the Broadway shows at Candlelight Pavilion Dinner Theater for many years. The Christmas show is always a heartwarming story of Mr. and Mrs. Santa. The last song is an invitation for all the kids to come on the stage with the help of the elves. Mr. and Mrs. Santa would pick the youngest kids to sit on their laps when they sing the last song.
When I was teaching, I took my students to see The Nutcracker ballet every year as one of my field trips. I teamed with another class to go to share the cost of the school buses. I also took my daughter to the theater to see The Nutcracker. When I stopped going to see it in the theater, my daughter and I still watched the DVD at home.
On Saturday, December 11, 2021, my daughter Mercy took her older daughter, Autumn, to see The Nutcracker. They'll start a new tradition.
8. Watch a Christmas Movie
My favorite Christmas movies are White Christmas, It's a Wonderful Life, Miracle on 34th Street, and The Polar Express. There are many newer Christmas movies. I don't watch too many movies and I like these old ones so much that I seem to watch the same ones all the time.
9. Visit Christmas Lights, before or after Christmas
Since 1932, each house on Peacock Lane – Christmas Street, in Southeast Portland Oregon, has been decorating for Christmas. The residents of Peacock Lane are happy to share that they will display their lights from December 15th – December 31st. For safety reasons, the Portland Police may shut down the Lane to motor vehicle traffic. My husband and I joined my daughter's family to stroll up and down Peacock Lane one year. Each house had themed light decorations. The address is SE Peacock Lane, Portland, OR 97214.
For the last four years, except in 2020, my husband and I went to Newport Beach to take a cruise to watch the Christmas Boat Parade.
10. Build a Gingerbread House
One year, our church fellowship group had the Christmas catering dinner at a retirement facility. Every year the chef starts months before the season to use his own time to build the Gingerbread Village. He built one house at a time, and the trees, the decorations, and put them in the freezer. Right after Thanksgiving, he would set up the village and add the operatable train. The residents and visitors admired this creation with wonder.
My daughter built a Gingerbread house with Autumn. I know many families do this activity with their kids.
~ ~ ~
You may have practiced some Christmas traditions for years, but you no longer keep them because of life changes. You may still keep some, or you want to start a new one. How about traditions your parents had? How about traditions your grown children have with their families?
Please describe them and share them with us in the comments. Thank you!
.
.
.